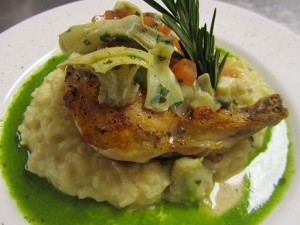 For some time now, real estate developers have included restaurant space in their residential projects. This is nothing new. But what really stands out is the quality of the food offered by the hyper-local watering holes around Mount Pleasant and Charleston. Putting an eatery in the heart of a neighborhood makes sense on a business-bottom-line level and from the customer-quality-of-life standpoint. Even better, Charleston's high-culture food scene has clearly penetrated the neighborhood 'dive,' elevating it to something much more urbane — and tasty! Please enjoy this roundup of refined eateries built right into the real estate developments they serve.
The Square Onion
First up is the established longtime I'On favorite The Square Onion. In business since 2003, The Square Onion is located in the town square of Lower Mount Pleasant's I'On neighborhood. In addition to serving gourmet sandwiches, soups and daily lunch specials, the shop offers take-and-bake casseroles, specialty dips, wine and homemade desserts. The Square Onion also puts on an excellent catering spread and fancy four-course dinner nights. With thoughtful recipes and high-quality ingredients, the small eatery is truly an asset to the I'On development.
Básico
The new kid on the block for the time being, Básico opened in July 2013 to complement the Mixson Bath and Racquet Club in North Charleston's under-construction Mixson real estate development. The taqueria specializes in Latin American-inspired cuisine, featuring tortas, tacos and ceviche, as well as homemade ice cream, churros and a lively selection of mixed drinks. The restaurant sources local in-season products to create its menu and is open for lunch, dinner and Sunday brunch.
The Boulevard and Maverick Southern Kitchens, Inc.
Part of Mount Pleasant's Coleman Boulevard Revitalization project, the much-anticipated Boulevard community welcomed its first residents in May 2013. In July, the real estate developer behind the Boulevard announced that Maverick Southern Kitchens, Inc., would open a 145-seat restaurant on the property in the fall of 2013. Maverick Southern Kitchens has an excellent reputation as the purveyors of another fine Mount Pleasant eatery the Old Village Post House and several upscale restaurants in downtown Charleston, including High Cotton and Slightly North of Broad. No further details on the cuisine offerings or name of the new restaurant are available yet.
Does your neighborhood have an eatery built into its local fabric? We'd love to hear about it. Please feel free to share by posting a comment below. And if you would like more details on Mount Pleasant real estate — or even the best local places to dine — give Bob Brennaman a call or email.