On Sunday, April 15, Patriots Point Naval & Maritime Museum will celebrate the U.S.S. Yorktown CV-10's 75th anniversary by rechristening the aircraft carrier. Nancy Ireland, Eleanor Roosevelt's granddaughter, will perform the ceremonial breaking of a champagne bottle against the ship's hull just as her grandmother, the First Lady, did in 1943.
The celebration will begin at 2 p.m. Admission fees to Patriots Point will be waived from 1-2 p.m. Normal parking rates will apply.
The U.S.S. Yorktown's keel was laid in December 1941 in Newport News, Virginia. At her christening on January 21, 1943, the ship slid out of dry dock seven minutes ahead of schedule. In an attempt to successfully christen the ship, Eleanor Roosevelt swiftly decided to throw a bottle of champagne at the ship's hull, instead of swinging it. It took two tries for a bottle to successfully break. Nearly three months after her launch, the U.S.S. Yorktown CV-10 was officially commissioned on April 15, 1943 becoming the 10th aircraft carrier to serve the U.S. Navy.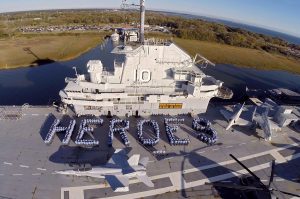 Patriots Point, on the Charleston Harbor in Mount Pleasant, S.C. is home of Patriots Point Naval & Maritime Museum and a fleet of National Historic Landmark ships, and the only Vietnam Support Base Camp in the U.S. Patriots Point is also headquarters to the Congressional Medal of Honor Society and the agency's official Medal of Honor Museum. (credit: Moultrie News)