Neighborhoods :
Old Village Old Mt. Pleasant
Being the very first neighborhood in Mount Pleasant, the
Old Village is famous for its centuries-old trees and historic
landscapes that date back to the Pre-Revolution.
Because of stringent rules of architectural design, the community
is admired for its preserved history.
The Old Village is known for its several distinct sites and walkable streets.
Alhambra Hall is one of those sites and is the place that Mt. Pleasant
took shape some 300+ years ago, as dance hall for Charlestonians who wanted a
break from the city on weekends.
Today Alhambra Hall  is used for weddings, community events and has a great
childrens play park that overlooks Charleston Harbor.
Another popular area for locals and tourist alike is the Old Pitt St. Bridge,
which at one time connected Mt. Pleasant and Sullivans Island. Today it is used for
walking, boat and bird watching and fishing.
If you come to Mt. Pleasant for a visit you definitely want to walk the Old
Bridge area.  Great views of Charleston Harbor.
The Old Village is one of the best locations to live in all of Charleston.
Great schools and very walker/biker friendly streets, and so close to everything.
You will note that the Old Village is in fact accessible to
the nearby beaches of Sullivans Island and it sits only minutes
from Historic Charleston.
I have lived in the Old Village for many of my years in Charleston.
If you would like a complimentary tour of Old Village real estate in Mt. Pleasant,
SC please contact, me, Bob at 843-345-6074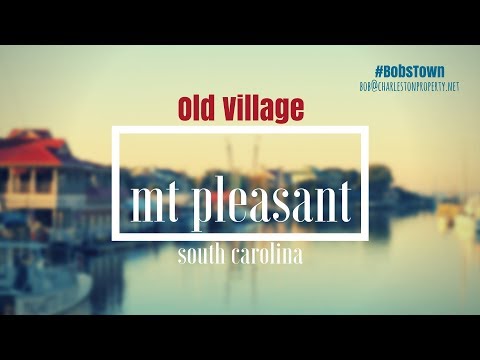 Neighborhoods:
Alston Point
|
Back Bay Village
|
Bay Tree
|
Bayview Acres
|
Beaumont Townhomes
|
Belle Hall Plantation
|
Braemore Real Estate
|
Brickyard Plantation
|
Bridlewood
|
Brookgreen Meadows
|
Cambridge Lakes
|
Candlewood
|
Carol Oaks
|
Carolina Park
|
Cassina Heights
|
Cassina Plantation
|
Center Lake
|
Chadbury Village
|
Charleston National
|
Chelsea Park
|
Commonwealth
|
Cooper Estates
|
Coopers Landing
|
Coopers Pointe
|
Cove Inlet
|
Creekside Tennis and Swim Club
|
Crown Pointe
|
Darrell Creek
|
Daybreak
|
Dunes West
|
East Crossing
|
Eastwood Townhomes
|
Edgewater Plantation
|
Etiwan Pointe
|
Fairway Place
|
Fiddlers Marsh
|
Fox Pond
|
Glenlake
|
Grassy Creek
|
Greystone
|
Hamlet Square
|
Hamlin Park
|
Hamlin Plantation
|
Harborgate Shores
|
Harbour Watch
|
Heritage
|
Heritage Village
|
Heron Pointe
|
Hibben - Belle Hall
|
Hidden Cove
|
Hobcaw Creek Plantation
|
Hobcaw Point
|
Horlbeck Creek
|
Hunters Run
|
Ion Real Estate
|
Ivy Hall
|
Lakeshore
|
Landings Run
|
Laurel Grove
|
Laurel Lakes
|
Longpoint
|
Mallard Lakes
|
Marsh Harbor
|
Molasses Creek
|
Montclair
|
Moss Park
|
New Parrish Village
|
Oak Park
|
Oakhaven
|
Olde Park
|
On the Harbor
|
One Belle Hall
|
Park West
|
Park West: Madison
|
Park West: Preston
|
Park West: The Battery
|
Patriots Providence
|
Phillips Park
|
Pinckney Place
|
Pirates Cove
|
Planters Pointe
|
Point Pleasant
|
Quail Hollow
|
Queens Row
|
Ravens Run
|
Remington Forest
|
River Reach at Remleys Point
|
Rivertowne Country Club
|
Scotts Creek
|
Seaside Farms
|
Shellpoint
|
Snee Farm Country Club
|
Sweetgrass
|
The Groves
|
The Meridian
|
The Tides
|
Village Creek
|
Wando East
|
Wando Lakes
|
Waterford
|
Watermark
|
Waters Edge
|
Waterway Arms
|
West Point
|
Yough Hall