Neighborhoods :
Hamlin Plantation
Hamlin Plantation is a 1350 acre tract located off of Rifle Range Road, north of the Isle of Palms Connector. The subdivision (900+ single family homes) overlooks the Intracoastal Waterway. The Sintra Corporation, John Wieland and custom builders all contributed to the development and planning of this well thought out subdivision. Each neighborhood has its own unique charm. Some of the subsections include:
-The Sound consists of high-end homes on larger lots with views of the intracoastal, marsh, lagoon and/or marsh. This subsection is located at the back of the Hamlin Plantation subdivision and is the premier subsection of Hamlin Plantation.
-The Village developed by SINTRA has 65 home sites with various floor plans.
-Madison subsection was developed by national home builder, John Weiland. Interior lots are heavily treaded with live oaks. This subsection also includes townhouses that are Charleston style.
The amenity center which has received numerous awards offers tennis, volleyball, basketball and a Junior Olympic swimming pool.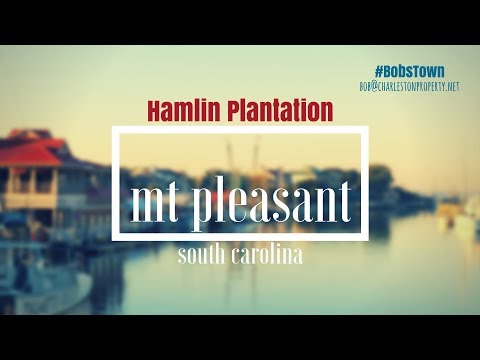 Neighborhoods:
Alston Point
|
Back Bay Village
|
Bay Tree
|
Bayview Acres
|
Beaumont Townhomes
|
Belle Hall Plantation
|
Braemore Real Estate
|
Brickyard Plantation
|
Bridlewood
|
Brookgreen Meadows
|
Cambridge Lakes
|
Candlewood
|
Carol Oaks
|
Carolina Park
|
Cassina Heights
|
Cassina Plantation
|
Center Lake
|
Chadbury Village
|
Charleston National
|
Chelsea Park
|
Commonwealth
|
Cooper Estates
|
Coopers Landing
|
Coopers Pointe
|
Cove Inlet
|
Creekside Tennis and Swim Club
|
Crown Pointe
|
Darrell Creek
|
Daybreak
|
Dunes West
|
East Crossing
|
Eastwood Townhomes
|
Edgewater Plantation
|
Etiwan Pointe
|
Fairway Place
|
Fiddlers Marsh
|
Fox Pond
|
Glenlake
|
Grassy Creek
|
Greystone
|
Hamlet Square
|
Hamlin Park
|
Harborgate Shores
|
Harbour Watch
|
Heritage
|
Heritage Village
|
Heron Pointe
|
Hibben - Belle Hall
|
Hidden Cove
|
Hobcaw Creek Plantation
|
Hobcaw Point
|
Horlbeck Creek
|
Hunters Run
|
Ion Real Estate
|
Ivy Hall
|
Lakeshore
|
Landings Run
|
Laurel Grove
|
Laurel Lakes
|
Longpoint
|
Mallard Lakes
|
Marsh Harbor
|
Molasses Creek
|
Montclair
|
Moss Park
|
New Parrish Village
|
Oak Park
|
Oakhaven
|
Old Village Old Mt. Pleasant
|
Olde Park
|
On the Harbor
|
One Belle Hall
|
Park West
|
Park West: Madison
|
Park West: Preston
|
Park West: The Battery
|
Patriots Providence
|
Phillips Park
|
Pinckney Place
|
Pirates Cove
|
Planters Pointe
|
Point Pleasant
|
Quail Hollow
|
Queens Row
|
Ravens Run
|
Remington Forest
|
River Reach at Remleys Point
|
Rivertowne Country Club
|
Scotts Creek
|
Seaside Farms
|
Shellpoint
|
Snee Farm Country Club
|
Sweetgrass
|
The Groves
|
The Meridian
|
The Tides
|
Village Creek
|
Wando East
|
Wando Lakes
|
Waterford
|
Watermark
|
Waters Edge
|
Waterway Arms
|
West Point
|
Yough Hall