Neighborhoods :
Olde Park
Olde Park subdivision is a high-end community featuring custom designed executive homes that have a Lowcountry look and feel.
Although most of the homes have been recently built, the subdivision feels like it has been around for years because of the grand oak trees and heavily treaded lots.
There are a total of 114 home sites and the minimum square feet of homes is 2500 square feet.
The subdivision is located in close proximity to historical Charleston and is approximately ten minutes away from the beaches of Isle of Palms and
Sullivans Island.
Homeowners of Olde Park have the option to use the amenities of their neighboring subdivision, I'on. The I'on Club offers a pool, tennis courts, country club and boat ramp.
The beautiful maintained entrance of Olde Park, the landscaping of the subdivision and the stately homes are all a must see!
Far and away, the best luxury homes in Mt. Pleasant,SC.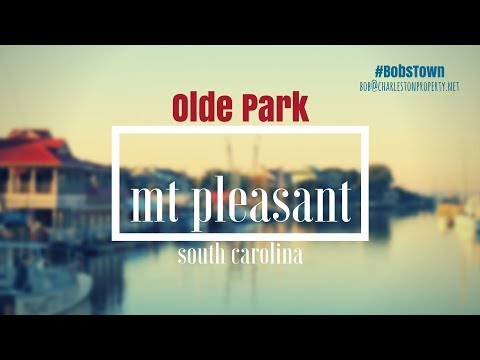 Neighborhoods:
Alston Point
|
Back Bay Village
|
Bay Tree
|
Bayview Acres
|
Beaumont Townhomes
|
Belle Hall Plantation
|
Braemore Real Estate
|
Brickyard Plantation
|
Bridlewood
|
Brookgreen Meadows
|
Cambridge Lakes
|
Candlewood
|
Carol Oaks
|
Carolina Park
|
Cassina Heights
|
Cassina Plantation
|
Center Lake
|
Chadbury Village
|
Charleston National
|
Chelsea Park
|
Commonwealth
|
Cooper Estates
|
Coopers Landing
|
Coopers Pointe
|
Cove Inlet
|
Creekside Tennis and Swim Club
|
Crown Pointe
|
Darrell Creek
|
Daybreak
|
Dunes West
|
East Crossing
|
Eastwood Townhomes
|
Edgewater Plantation
|
Etiwan Pointe
|
Fairway Place
|
Fiddlers Marsh
|
Fox Pond
|
Glenlake
|
Grassy Creek
|
Greystone
|
Hamlet Square
|
Hamlin Park
|
Hamlin Plantation
|
Harborgate Shores
|
Harbour Watch
|
Heritage
|
Heritage Village
|
Heron Pointe
|
Hibben - Belle Hall
|
Hidden Cove
|
Hobcaw Creek Plantation
|
Hobcaw Point
|
Horlbeck Creek
|
Hunters Run
|
Ion Real Estate
|
Ivy Hall
|
Lakeshore
|
Landings Run
|
Laurel Grove
|
Laurel Lakes
|
Longpoint
|
Mallard Lakes
|
Marsh Harbor
|
Molasses Creek
|
Montclair
|
Moss Park
|
New Parrish Village
|
Oak Park
|
Oakhaven
|
Old Village Old Mt. Pleasant
|
On the Harbor
|
One Belle Hall
|
Park West
|
Park West: Madison
|
Park West: Preston
|
Park West: The Battery
|
Patriots Providence
|
Phillips Park
|
Pinckney Place
|
Pirates Cove
|
Planters Pointe
|
Point Pleasant
|
Quail Hollow
|
Queens Row
|
Ravens Run
|
Remington Forest
|
River Reach at Remleys Point
|
Rivertowne Country Club
|
Scotts Creek
|
Seaside Farms
|
Shellpoint
|
Snee Farm Country Club
|
Sweetgrass
|
The Groves
|
The Meridian
|
The Tides
|
Village Creek
|
Wando East
|
Wando Lakes
|
Waterford
|
Watermark
|
Waters Edge
|
Waterway Arms
|
West Point
|
Yough Hall